Dewey Cannon Winery & Brewery
LOCATED IN THREE OAKS... SPACE FOR UP TO 100 GUESTS FOR WEDDINGS AND OTHER PRIVATE EVENTS... WONDERFUL SELECTION OF WINES AND BEERS THAT WILL TRULY TEMPT YOUR TASTEBUDS...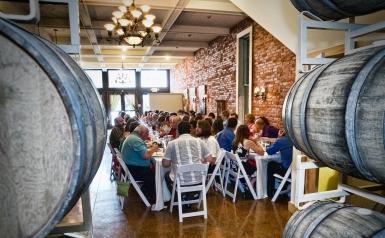 If you love both beer and wine, you really owe it to yourself to check out Dewey Cannon Winery & Brewery. We can't get enough of this place. They are known for their special events, so if you're planning one, consider having it here. For weddings, they can accommodate up to 100 guests. Their handcrafted Michigan beer is available by the glass, case, or keg, and their 15 barrel reserve wines are just out of this world, with reds, whites, and of course some sensational dessert and fruit wines as well. They have a wine club that is certainly worth joining, which actually gives you an impressive 15% discount plus lots of bonuses. They serve lunch and dinner on the weekends too!
DEWEY CANNON WINERY & BREWERY | 9 N ELM ST | THREE OAKS MI | Ph. 269-820-4011
Continue to Party Bus Detroit to Schedule a Michigan Brewery Tour »