Middle Villa Inn & Micro Brewery
LOCATED IN MIDDLEVILLE... KNOWN FOR WONDERFULLY COZY WEDDING RECEPTIONS FOR 60-70 PEOPLE... THE SECRET TO THEIR AMAZING MICROBREWS IS THE BEST WATER IN ALL OF MICHIGAN!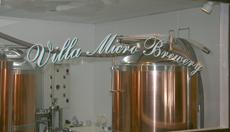 This is one of the most well-stocked breweries in this area of Michigan, with a really incredible array of light lagers, pilsners, ales, wheat bears, stouts, and porters. This establishment is known for hosting private events including wedding receptions, so if you are looking for a place where you can celebrate your nuptials while also enjoying the finest beers around, this is definitely it. They can accommodate 60 to 70 people for most events, and they've got flat-screen televisions and even Keno screens for your entertainment as well. Note that one of the most important ingredients in their beer is the water! Middleville has gotten an award for having the best water in the state of Michigan. The quality that adds to the beer cannot be overlooked. Highly recommended.
MIDDLE VILLA INN | 4611 N ARLINGTON | MIDDLEVILLE MI | 49333 | Ph. 269-795-3640
Continue to Party Bus Detroit to Schedule a Michigan Brewery Tour »